Farewell to The Lane – emotional, inspirational, exceptional
There's a line in the marvellous movie Kingpin that just had to be repeated as we walked up the steps to our seats one last time at the famous old stadium.
"Welcome to Our Church," was said with a smile, a hug and a laugh to my best mate Willie Myers as we took our seats for the game against Manchester United.
Our last season at White Hart Lane has been nothing short of remarkable.
Welcome to our church…your author at The Lane
As we left The Lane after our record breaking win against Manchester United, there was time for a final look around and then the tears began to flow.
I still can't quite believe I will never venture inside the old place again.
I stepped into the stadium for the first time as a boy, and left it for the last time two years and three months short of officially becoming an old git.
I am dreading next season, playing our home games at the place I regard as a tip. What people still call the "new" Wembley, our national stadium, is not much better than it was when I had to carry my daughter Angela over rivers of urine in the 1987 FA Cup Final at the "old" Wembley. I detest the place and hate the journey there and back.
But that's almost the last mention of it in this celebration of a 'proper football ground, a place I love with all my heart.
You don't choose your football team, it chooses you. There may be other teams you have a soft spot for and it's a given you support your national team. But you love your club. You follow it through thick and thin. Tottenham Till I Die.  This, as two of our famous sons have said, is my one and only club.
And the ground, White Hart Lane, is sacred to us. Through it's different rebuilding over many years, the character hasn't changed. The sound, the smell, the special atmosphere is hard to describe.
I have seen some spectacular sights in the holidays I have been lucky enough to have all over the world. Many that take your breath away. But none of them are a patch on The Lane.
It's magic, you know.
Over the years, some outsiders have tagged our fans for being too demanding. But I think you need to refer to that lot from Woolwich for that. 20 years of success from a manager who knows his stuff – and they still complain.
We've never been arrogant, like some. Our love is unconditional. It's in our DNA.
Of course we want success. Some years back we were on the verge of almost being clubbed into submission, of nearly going down the road of developing into the anti-football sides we hate. But the last nine years have been building to something exceptional again. Many supporters don't see this exciting football  once in their lifetime. Now it is coming around again for us.
Harry started to bring back the joy – more of that later. AVB was on the cusp of something special. Tim had the passion, not the experience or patience.
Mauricio started with the foundations, and is building something momentus, just like the New Lane next door.
The attention to detail had made my heart burst with pride. The players have embraced the "good morning" respectful greeting at the training ground to everyone from the man on the gate, the tea lady to the chairman.
He has preached togetherness, pride, passion and fight for one another. It's shades of 'Sir' Bill Nick in so many ways. The crowd has got its passion back. The songs are coming loud and clear. The humour and smiles are back. Of course there will be setbacks. We've had two this season, the FA Cup semi-final and last week's performance which gave our neighbours their open-top bus parade around Newham.
He's not afraid to make tough decisions. Decisions that will mean some players may move on. But he has brought compassion, respect, humour and heart back our stadium with the help of the fans who adore him.
We've amassed a truly magnificent 53  points at The Lane this season, 17 wins and two draws, unprecedented in my memory.
We have been absolutely stunning in every way. Goals galore, stuffed Chelski, Man City and in our last NLD blew the Gooners away.
That final game was a fitting finale to what has been a stunning team performance all the way. No talk of so near and yet so far. We are simply the best team over these last two seasons, bar none. More points than any other team.
I don't care if we haven't won silverware. It would be nice, but we can cope , after all we're Spurs fans.
Mauricio gets it. He gets what being a Spurs fan means. He gets what The Lane means and how the fans can inspire his charges.
Mauricio… he's magic, you know
Time for reflection then, and a plea to Poch and Daniel Levy. Protect what you have built together at all costs and keep building, keep believing. Because with the pride and passion we have generated at The Lane, we can transfer to the new arena. Come on You Spurs.
For me this place has been second only to my family for the last 55 years. I lost my mother Lily tragically 40 years ago. But it was she who took me to The Lane for the first time in 1962. And what a game.
I make no secret of the fact that I was first a Jimmy Greaves fan in my North Woolwich home when I was seven in 1961. Spurs had won the double and the signed Jimmy for £99,999 as the greatest manager of all time "Sir" Bill Nicholson did not want to make him the world's first £100,000 player.
I'd watched him on TV scoring for England and suddenly I was going to see him live.
I still don't know how she did it, but mum managed to get us tickets for the European Cup.
Five bob to get in in 1962
And so my first live game years supporting Spurs came when mum got me tickets for the European Cup semi-final against Benfica. Ticket cost 5 shillings, about £16 in today's money
Aged eight I was lucky enough to see us win 2-1, but lose out on aggregate on the night due to some diabolical refereeing decisions. It was the first time I heard our Glory Glory Hallelujah anthem and my first live glimpse of Greavsie, who had a perfectly good goal chalked off.
 Spurs v Benfica and the goal that wasn't
It was Jimmy I followed first, but Spurs were not far behind. White Hart Lane under the lights. I was hooked.
In those days, there were no replica kits. You got a white tee-shirt and your mum sewed the famous cockerel badge on it. I wore it in my childhood as I played at school and on Sundays for Red Rovers (named after the travel everywhere bus ticket).
Holding a replica FA Cup made by my grandad Fred from wood and tin foil.
Suddenly Spurs were in my blood. The disappointment of not making the final didn't matter, as we won the FA Cup.
The following year they became the first English team to win a European competition, the European Cup Winners Cup.
By now I was allowed to go to games with friends or alone. Various school pals accompanied me and I would also go with them to Upton Park, or The Valley.
By the time Plaistow Grammar School beckoned in 1965, I was a regular.
Over the years when your team was playing away, you would go with friends to other grounds. There was wit and humour on the terraces and yes, rivalry when you would go to your local rivals. But none of the venom and spite that later came along.
But White Hart Lane was the one and only place in my heart.
The pre-match marching band, the players coming out of the tunnel to the left of where I stood opposite in the East Stand. I'd sit outside the turnstiles reading my match programme and eating  the packed lunch trying to be first in the ground. You could walk all the way around the ground underneath the stands. You would get your place behind the distinctive railings at the front for the best pitch side view anywhere.
I'd never be first in. The best I managed was to see only three other people before the Queens Park Rangers game in 1968.
Then when a pal and I went to the QPR away game in the reverse fixture that season we found ourselves in the News of the World the day after pictured behind Roger Morgan and his twin brother Ian, who was playing against him. Front row again.
The half time scoreboard, spelled out in ABC letters relating to the fixtures in your match day programme. The man with the numbers put out the half times about five minutes in the second half. No scores updates on your mobile in those days.
In the sixties, you knew the team off by heart. 1 to 11. No subs.
In 1962 it was Brown, Baker, Henry, Blanchflower, Norman, Mackay, Jones, White, Smith, Greaves, Dyson. Legends all.
It's an impossible task to pick out your best games over 55 years.
But some just stick in the memory.
One favourite game at The Lane in the 60s. Spurs beating Manchester United 5-1 in 1963 with Greavsie tip-toeing his way through the defence to score a belter. It had the added joy of being captured on TV, so we could relive it all over again.
The crowd went wild. We had a terrific team that entertained from start to finish.
Audere Est Facere – To Dare Is To Do was the club motto and we lived our lives by it.
But it would be hard to beat the goal that came in October 1968, when Greavsie took the ball from a throw out by Pat Jennings, spun round, right in front of where I was standing, dribbled past five defenders and slotted it past Peter Shilton. The chant Jimmy for England echoed around The Lane like never before. Alf Ramsey had not long before left him out of an England Squad. He had been badly treated, and the crowd demanded his recall every week. The atmosphere was electric. It was a special place on a special day again.
The cutting from the Sunday Express I have kept for 49 years, Greavsie leaves players in his wake as he scores a special goal
Shortly after this, the crowd also began a spoof chant in tribute to the two brothers who used to go around the entire ground, before, and during the game, flogging peanuts in small bags. "Peanuts for England" was regular mickey-take.
But then we have always had a way with words. Bill Nicholson quotes have grown to mean more and more over the years: "It is better to fail aiming high than to succeed aiming low. And we of Spurs have set our sights very high, so high in fact that even failure will have in it an echo of glory."
Likewise that of one of our famous sons, Danny Blanchflower: "The great fallacy is that the game is first and last about winning. It is nothing of the kind. The game is about glory, it is about doing things in style and with a flourish, about going out and beating the other lot, not waiting for them to die of boredom."
Danny also said: "We try to equalise before the other team score.." Perfect. Danny was a magician with the ball. So calm, cool, collected.
Alongside him Dave Mackay was the best defender I have ever seen. Courageous, valiant. And boy could he pass a ball.
John White lit up The Lane with performances that made you gasp in amazement.
Cliff Jones, the bravest player I have ever seen. Simply electric. And also one of the nicest men it has ever seen my privilege to talk to on many occasions.
Bill Brown and Pat Jennings, two of the greatest  keepers. Years later Ray Clemence, Paul Robinson and now Hugo Lloris would thrill us with displays between the sticks to take your breath away.
By 1970, I was still standing for most games, but at 16, had been enjoying the pleasures of a few pints for a couple of years. I had joined the Spurs Supporters Club in the High Road and bought their magazine with joy, and enjoyed the rolls and a cuppa, and then graduated to enjoy a drink or several.  In my last two years at school, my love of journalism had grown greater and when my form teacher (and part time careers advisor) told me I had no chance of ever becoming a journalist, the words bull, rag and red, sprang to mind. There was only one other time in my life when red was acceptable – when it was the colour of the masthead of the Newham Recorder newspaper I went on to work for  and edit.
The challenge was in my brain and I was determined to prove him wrong.  I began writing my own match reports on the games I witnessed, pretty soon after designed my own little newspapers. The love of words is still with me. Writing has to have emotion. I have told generations of journalists I have mentored that if writing has no emotion, don't bother. Even a filler can have emotion.
The 70s brought the departure of my all-time hero, Jimmy Greaves to West Ham United. It was painful, so, so painful, and a move he later said he regretted. I still believe he had much to offer.
But Martin Peters, came our way in the player exchange and what a footballer. Our new ghost. His goals were different to Jimmy's but he also become a Lane legend, reviving memories of the late John White.
The seventies brought League Cup wins and European trophies, magical nights with Alan Mullery and Martin Chivers shining out like beacons, thundering marvellous match-winning goals. The 1972 UEFA Cup win was another brilliant night at The Lane. Exceptional bravery won us the day. Cyril Knowles, the perfect striker of a ball.
Alan Mullery's famous goal against Wolves to win the UEFA Cup
The seventies also meant many away games for me and some stunning nights as we played some brilliant football. It also meant my girlfriend, and by 1976 my wife, Lesley, would accompany me to home and some away games.
When planning our wedding, the first thing we did was to ensure Spurs were not at home. An away game at Stoke – phew, with Glenn Hoddle scoring on his debut.
But the addition of the new star man could not stop the downward spiral.
The rot set in and we lost our way, and despite having some other great names like Stevie Perryman in the team, we witnessed the shock of relegation, and my only year of watching games in the second tier of what was then the Football League.
But what a year. And what was just around the corner the following year.
Playing in the old  Second Division meant travel to all kinds of exotic places and some new players in the team like Colin Lee, scoring four times in a 9-0 win at The Lane on his debut against Bristol Rovers.
But amidst the revival came some jitters, and only a goal by Steve Perryman against Hull in the last home game at White Hart Lane gave us a chance of winning promotion back to the big time.
And so off we went to Southampton, a draw needed to take us both up. No toilets, only a wall. Penned in behind an awful fence and unable to see the corner flag.
But it didn't matter. We were back, and something amazing was to hit us just a few short weeks later.
We sat back and watched what I still feel was the best World Cup of all time. Exciting. I now know at first hand the passion of Argentinians because my son now lives there with his wife and daughter. But back then it was a mystery. The ticker tape that seemed to fall from the sky in every game. The passion and pride I had only seen before in my own team – even with its failings.
But this was brilliant stuff. The famous light blue and white shirts deservedly lifted the trophy in what was a carnival of football.
The dust settled and then on July 11 1978, the Daily Express got itself a real football exclusive.
The headline screamed out from the back page: Spurs Scoop The World.
We'd only gone and signed two of the World Cup Winners!
Ossie Ardiles and Ricky Villa had signed for our club and what a rollercoaster was about to begin.  The ticker-tape welcome followed us everywhere. And in typical style, after a 1-1 draw away at Forest, the stage was set for a dramatic entry at The Lane. The scenes were incredible….and Villa thumped us 4-1.
But it was the amazing cup run in 1981 that finally brought us the glory we deserved. White Hart Lane was rocking for every game and, although we didn't know it at the time, getting crushed at Hillsborough in the away end in the semi-final was a harrowing preview of the tragedy there a few years later. We realise now it could so easily have been us.
But we took over the Library for a magical replay win against Wolves. And the best of FA Cup Final replays – after queuing twice outside The Lane for tickets for both finals – saw the best ever goal in a final by Ricky. I felt my heart skip a beat in the excitement as he scored.
Graham Roberts was inspirational. Chris Hughton and Paul Miller  who I had got to know through my paper, the Newham Recorder, as they were East End boys, solid as a rock. Tony Galvin on the wing. Glenn weaving his magic.
The Evening Standard front page that takes pride of place in my hall reporting our 1981 triumph
And thanks to Chas and Dave we have the anthem that rings around The Lane 36 years later. Ossie's Dream.
The Lane rocked again as we played some brilliant football the following season and should have won the League. We were treated shamefully on the fixture list front, and had no help at all from the authorities, but brought the FA cup back to The Lane again. Stevie P held those cups aloft so proudly. He was the ultimate thinking footballer.
And from that season we began hearing Glory Tottenham Hotspur, sung by the FACup squad ringing out around The Lane. McNamara's band now the second half starting song.
No matter how much Man U try to nick our anthem, it will always be ours.
There heroes were shining through  Steve Archibald, Crooksie, Micky Hazard.
The new West Stand was finally opened in 1982 after playing with only three sides created an unusual atmosphere for us.  But European football at The Lane was exciting, unlike much of the roll-over lay down Euro Trash we have had to tolerate in recent seasons from the opposition.
It was also a time that The Lane became ever more of a family affair. My daughter Angela born in 1980 and son James in 1983, became Spurs fans for life and joined me with at The Lane. Angela's first trip was at the age of three. Ditto James.
James and Angela on one of their first trips together to The Lane
And the day after her fourth birthday came one of the great nights at The Lane on May 23 1984, when your heart jumped many times as the stadium rocked as we played the second leg of the UEFA Cup Final against Anderlect.
I can still see Graham Roberts equaliser hitting the back of the net, after a completely unfit Ossie had come on as sub to hit the bar, from my perch in the East Stand. I can still smell the atmosphere after Danny Thomas missed a penalty in the shoot out. I can still feel the tears as we sang There's Only One Danny Thomas within seconds as we thought we had lost the shoot out. And I can still remember hugging everyone around me after Tony Parks saved the penalty that won us the trophy. These are the moments that make this place so special and make you feel that it is a place of worship. Glory, glory, Tottenham Hotspur. Keith Burkinshaw and his heroes.
Tony Parks and Graham Roberts after the 1984 triumph
But the wind of change was looming. Keith decided to call it a day.
And I had a big decision to make. Needing to save money to pay our new mortgage, I decided to apply for a job as a steward to be able to see the games, and get paid for it. By then news editor at the Recorder, I went after work for my interview.
Immediately, as I had a suit and tie on, I was asked if I wanted to be a security officer! £20 instead of £15 for each game.
I then spent a happy time with Peter Shreeve as manager.  I worked everywhere in the ground from outside the various lounges, to the executive boxes, in all the stands and loved everyone there, a fantastic bunch of people.
I met members of the press I knew from my day job and then got given a plum job. Standing in the tunnel outside the changing rooms. It was an honour, but  quickly grew to hate it. I could only see the match through the end of the tunnel. Miserable.
And so I asked for a move – and got one to the players' wives kids creche. I got to know many of the players and their partners were lovely people. At least I could watch games on the internal TV monitors. And then I was asked to monitor the board room, going up and down in the lift about 20 times a match. It was tough checking the whisky levels in the decanters!
As I got promotion at work and we managed to be better off financially, I gave up my security role and returned to a season ticket at The Lane, this time with a man who became my best friend.
Having helped create a successful PTA and with a long stint on the governing body at my childrens' school, I developed a special bond with three people who I am proud to call my closest friends today, fellow parents Pat Bassett and Vic Lawler and Willie Myers, the school caretaker.
Willie, like myself is a lifelong Spurs fan, used to travel to games in his VW van. Happy days spent travelling with his son Sean, Willie's brother Pat and his sons Neil and Mark and assorted others.
But he was not just a school caretaker. He was devoted to helping the PTA raise money for the junior and infants schools he cared for. And since he left that job he has gone on to help raise funds for other causes and has joined me in raising funds for the charities I support. In short, he is a diamond of a man.
Willie Myers and myself in the dugout!
And so the pilgrimage continued. In 1987, under David Pleat, we had a team that should have won everything. But didn't.
The glory glory nights, with Clive Allen plundering goals for fun were in abundance.
A special game I shall remember was Glenn Hoddle's final appearance, against Oxford in 1987. A gem amongst all those pieces of magic he had given us. No-one hit a volley like Glenn, but this showed his twinkles, taking out three defenders on the half way line and taking the ball around the keeper to finish and blow a thank you kiss to the crowd. Another heart stopping moment from another magician who is one of our own.
We headed to the Cup Final and despite being 1-0 up in minutes, contrived to lose our first Wembley final. Then David Pleat's reign ended for non football reasons.
The Lane now had a new boss, an ex-player who had won the FA Cup with us back in 1967, Terry Venables. And off we went on another roller coaster.
We became a club making headlines very often for the wrong reasons as well as the right ones. And we almost went out of existence – thanks to the banks.
It was only the actions of Alan (now Lord) Sugar, vilified at the time, that kept us alive and kicking
Given the turmoil, it was amazing that on the pitch, things were getting more and more exciting.
Every game meant something to our family. Paul Gascoigne, Gary Lineker , Gary Mabbutt and Eric Thorstvedt and Co brought the crowds back and The Lane was buzzing. Again, we had a team to challenge all others.
The FA Cup run in 1990/1 produced so many magic moments, including the first Wembley semi-final against Arsenal, that the final win seemed inevitable. Again, we had to do it the hard way, going behind and Gazza getting carried off.
Silverware was back at The Lane again. Little did we know that would be our last FA Cup win to date.
But still the entertainment has flowed down the years at our special home.
In 1993, one of our famous sons,Ossie Ardiles returned with another Steve Perryman, to take the managerial hot seat. Attractive football it was every week – but a gift to the opposition.
Having taken my daughter and son to watch the players train at Mill Hill, it was lovely to watch the attacking hard work – but no time spent on defence. All we heard Ossie say was : "Play, play, play."
Mr Sugar pulled off an amazing coup, signing Jurgen Klinsmann, who quickly showed us the class he possessed. With Teddy Sheringham, Darren Anderton, Nick Barnby and IIie Dumitrescu, there was so much to admire as the Famous Five. Every trip to The Lane was a joy. Jurgen's amazing first goal, an overhead kick at The Lane in his debut against Everton, was a moment that took your breath away.
Jurgen celebrates after his goal v Everton
But we could not defend! We all wanted it to work so much with Ossie and Steve at the helm. But the end came after a home win against West Ham.
Gerry Francis replaced Ossie and brought back hard work and defending. It so nearly worked.
Jurgen and Teddy were simply magnificent together. The football we played lifted your spirits. The Lane embraced them and it became a magical place again.
Jurgen gave The Lane something special and we gave it back to him. He said:" I've never felt the connection so deeply in a stadium between the fans and the players.
"You cannot describe the energy you feel on the field because you feel responsible to deliver something to your fans. And I will never forget that." But it wasn't enough.
But then the reigns of Chris Hughton, Christian Gross and David Pleat's return took us through some low years. George Graham won us silverware in the shape of the Worthington Cup. But as "the man in the raincoat's blue and white army" we did not enjoy the football. Only David Ginola kept us excited and interested.
The Lane witnessed some gloom and doom as we stared relegation in the face again. Jurgen returned to save us with some vital goals.
Lord Sugar's reign came to an end, and a new chairman arrived in the shape of Daniel Levy in 2001, a Spurs fan since childhood.
His first action, to sack Graham and bring in Glenn Hoddle. Here was a man who represented everything Tottenham stood for, and in my view the man who should be England manager again now.
But some things in life just fail because of fate. Losing a League Cup final and league positions of ninth and tenth were sad. Every time he seemed to be near to getting it right, it went wrong.
The support was always there at The Lane for Glenn, but it never happened.
Jacques Santini took the hotseat. And left. Nothing more to say.
Almost by default, Martin Jol took over and suddenly a personality with a big heart made life at The Lane enjoyable again. The highest finish for many years brought European football back again two years in a row. We seemed to have turned the corner. We had a manager who we could sing about again. The Lane was in full voice again.
But in the midst of this came one of the saddest times at The Lane.
Our spiritual leader 'Sir' Bill Nicholson, treated with the utmost respect once again since Mr Levy took over, passed away.
And on November 2 2004, The Lane was filled with thousands of fans and past players for a memorial service to the great man.
I shed many tears but listening to heroes like Jimmy Greaves and Cliff Jones tell of their memories, it was also a time for laughter.
Tough-talking Bill stood no nonsense, and seldom gave out praise. But listening to Cliff tell how he almost collapsed in shock after Bill once told him he had had 'good game' made thousands go home smiling from that special day.
Cliff told Bill : "Careful boss, you praised me there." Cliff said Bill replied: "Always remember Cliff, a pat on the back is only a short distance from a kick up the arse."
The tearful memorial service for Bill Nicholson
Back on the pitch we had players who with filled us with belief. Paul Robinson, Michael Dawson, Tom Huddlestone, Aaron Lennon, Jermain Defoe, Dimitar Berbatov, Robbie Keane.
The European nights returned. Again it looked as though we were onto something big. One home game, against Bolton, we could have gone top with a win, we drew.
One night summed us up. October 1, 2007. We were languishing in the bottom three. We are all given flags to celebrate our 125th anniversary. We take the lead … almost in a blink we are then trailing 1-4 at home to Villa. Amazing we come back to draw 4-4 in stoppage time. Incredible.
It seemed like so many players were unfit as we lumbered on. One win in ten games.
But the handling of Martin Jol's sacking is a blot on life at The Lane. As the internet began to take over our lives, the news that Martin had been sacked filtered through after it was leaked by a newspaper at half time in our UEFA Cup match against Getafe. To say it was a surreal experience is an understatement. It was later revealed that Martin got a text from a friend during the second half telling him what was happening.
A new management team, under Juande Ramos, gave us optimism as we won the League Cup beating Chelsea in 2008. With Ledley King as captain we were going places. And  beating Arsenal 5-1 at The Lane in the semi-final had again given us real hope for the future. The old place was rocking.
Another Wembley final the following year, losing to Man U on penalties.
But the worst ever start to a season led to Mr Levy again having to make a tough decision with the club bottom of the league. Given the players in our squad, it seemed ridiculous.
And so came the decision nine years ago that saw us take a giant step to where we are today. The appointment of Harry Redknapp and new lease of life for Tottenham Hotspur and White Hart Lane.
We bought into the humour, the gentle nudges and the bollockings, and a management style like no other. Always a cheeky chappie with a view for all media on all subjects. But make no mistake, this man was a proper manager. We were saved AGAIN.
But the emergence of our younger players, carefully, slowly, began with him.
Rafael van der vaart and Gareth Bale made us attack with venom and style yet again.
The Lane was alive again . Bale had never played on a winning side until one moment, Harry eased him in. The shackles were off.
Back in the Champions League.
The emerging superstar, running Inter Milan and their befuddled right-back Maicon ragged as Harry Redknapp's team treated the fans to a 3-1 triumph in the Champions League.
Telling Pav to 'run around a bit' struck the right note.
Robbed of a second year in the Champions League by a crazy rule since scrapped. But our home was buzzing again.
Sadly it ended, many of us thought prematurely.
The football was excellent, and standards continued to rise. The Lane was a special place again.
The arrival of AVB surprised many of us. He bought into our way of doing things.  But he could not quite take us that final step, overcomplicating things when we did not need to.
Tim Sherwood next on the conveyor belt, saying all the things we were thinking as fans, and it got a reaction. But again, the right decision from Daniel Levy for Tim to go. He got out of control and took things too far. His record stands well. Shame.
And now to the last three years and the arrival of one Mr Mauricio Pochetino. Honestly, watching this team evolve has been an absolute joy.
But before we highlight that there must be fulsome praise for Daniel Levy. It's about time there was a chant for the man who has always done what is right for Tottenham Hotspur. He is exactly the kind of honest man we need at the helm. Thank you Daniel.
And listening to the humble manager in charge of our destiny gives me great hope. By his own admission he is still learning. He is not a boaster, not a bullshit merchant and believes in hard graft, fight and passion.
He was fair to every player at The Lane, telling the squad he inherited they would all get their chance, and he did just that. Some upped their game and some just weren't up to the task. Of the famous five signings we had made, only Eriksen and Lamela now remain and the latter has been out most of the season, but he improved him so much. He has given youth a chance and how. Getting to the League Cup Final was a bonus, but a Wembley trip too far.
Hugo and Toby and Victor – great pros
But now we are strong in every positon. Either the press is making mischief or some of the players may actually leave this summer. But for now let's be grateful for a fantastic season. Hugo, Kyle, Danny, Toby, Eric, Jan, Christian, Ben, Moussa, Victor, Dele, Harry, Sonny, Trips, Vincent, have all improved. Harry Winks is a star of the future.
Harry and Dele – the future
In Dele Alli and Harry Kane, we have two outstanding individuals who wear their hearts on their sleeve and are loved by The Lane. Watching them die for their cause this season has made life a joy at The Lane.
My player of the season may surprise you. Eric Dier. An intelligent footballer and a man to rely on.
The people make this place and in 55 years I have found this season a joy from start to finish. When we've been behind, I knew there was always more to come. They have been up for the fight. The atmosphere has been electric.
Superstition, of course, plays a part for fans,  I've worn the same shirt for every home game, so I can take some credit!
I've stood, and sat in the Park Lane, East Lower, Shelf, East Upper, west stand, and now, for the last 15 years The Paxton.
I miss my daughter being with me and my son since he left for his new life in Argentina. But they are with me by text and What's App every game.
James sees every game on TV out there and has often told me about a decision at the Park Lane end by seeing it on replay – much to the pleasure of those around me in the Paxton, as I keep them informed!
Fan-tastic, friends for life…the people have made this place so special
James on his recent trip from Argentina, with his dad, Willie and Kimberley
I loved having him with me again for the home game against Bournemouth during a recent visit, so he could take in one game before the precious places is no longer with us.
There are some special people around me. Willie, his son Sean, daughter Meg and Lisa Donnelly and her dad, and lately her husband. Chris next to me.  Others whose faces I have known for years and know their first names. Hopefully we will stay together at our temporary 'hotel' and our new home.
I will also miss the 703 (Tottenham Community Centre) in the High Road where we drink before each game. We promise to pop in during our year away.
The special people who I see there. Among them Jess and Grace, Mark, Lennie, John, Janet, Bill, and Kimberley will be with us as we travel to Wembley, along with Bev, our favourite Spurs steward.
To Tony and John at the club and the bar staff who have become our lifelong friends. See you in 12 months.
Willie and I in the 703 club
Having been a security officer at the club I know how heartbreaking it has been for Bev and all her colleagues . They really are a special family.
* With Bev at The Lane on Sunday
On Saturday we got this message from Mauricio, via a press conference.
"It's about building a special feeling at the club. The players that want to share it are welcome here. The easy thing was to arrive and ask for players and ask the owner for big money. That is the easy way. Today we realise at the club that we can build something special in a different way to other clubs."
Harry scores against Arsenal last season
I have seen over 1,500 games at home ( and about 500 away) since my love of Spurs began and am desperately said to leave the place I call "my church."
It is a place of worship and has been so much of the lucky life I am so grateful for.
White Hart Lane is such a special place and this, our home, really is where the heart is. We have watched in amazement this season as the new stadium has gone up around us.
Thankfully I have survived long enough so that my ashes haven't had to be scattered at the old place. It's the New Lane where my loved ones will perform that honour.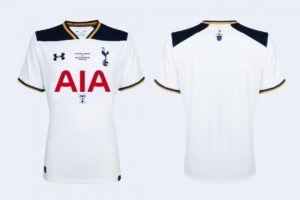 The kit worn for the final game
Sunday was breathtaking and heartbreaking. Again, we showed class and determination. The noise generated in the old place was brilliant. There was no way Rooney and Co were going to spoil this for us.
My son watched in Argentina and said the noise was so loud, you could not hear the commentators.
James and Julia watch in Buenos Aires
As Victor and Harry earned us the points, we sang all the old songs that had been invented over the years. Tributes to Archibald, Hoddle, Rafa, Gazza and Co.
* Victor and Harry kill off Man U
After the game there was a pitch invasion like you have never seen before. I hesitated,  but then just had to be a part of it. Stewards even took pictures for the fans and after 15 minutes, everyone made their way back to their seats for The Finale.
The legends old and new were paraded in the pouring rain in a fitting send off for the special stadium.
Many players had their babies in their arms or walked them by the hand to cherish this special moment in their lives as well as ours. A rainbow shone brightly. Later, social media added Sir Bill's head to the image, Brilliant.
Glory Glory rang around the rafters of the stadium. Being a Yid followed, Dele Alli and Harry Kane's special tributes were belted out like never before.
Then came Tottenham Till I Die, sung as loud as I have ever heard it.
*  Can't Smile Without You
Then the one that broke me. Can't Smile Without You…
Time for one last look at the chair I had sat in for the last 15 years.
And time for a selfie with Meg, Sean and Willie.
It's a farewell, but not goodbye, as we are creating a New White Hart Lane, within the footprint of the old.
Whatever the new stadium is officially called because we now have to take the modern way and sell our naming rights, it will always be The Lane. Because We are Tottenham, from The Lane.  The excitement is already building over our new home, and as I complete the hefty tome, the pitch is already being ripped up.
We needed to give the old girl a great farewell. And we did. It's been memorable to be a part of it.
The close season is a time for reflection, and a time when Poch and his team need to get us playing better on pitches the size of Wembley and The London Stadium.
We must somehow axe this phobia. I am not looking forward to a year at Wembley, for a variety of reasons, travelling and being crammed in like sardines being the main two.
Willie and I inside the inner sanctum of Spurs with a bust of our greatest ever manager
But for now I will end with a question I've asked myself many times this season… What would Bill have thought of our demolition of The Lane? Given how Daniel Levy righted the wrongs against Bill four years before his death, I think he would be pleased, especially as it is being resurrected just yards away. And that Spurs look like going on to further glories.
Good things come to those who wait. #COYS.
And a final image. Sir Bill closing the gates…what else? God bless and thanks for the memories.
#COYS